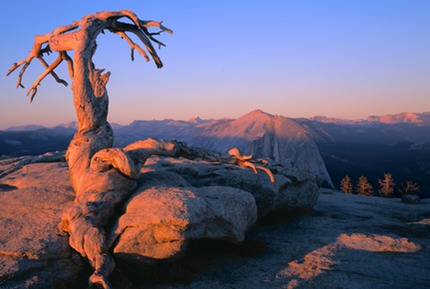 Jeffrey Pine, 1998
This Jeffrey Pine atop Sentinel Dome fell in 2003, but in 1998, it gathered the reddening dusk and arched across the sky, with even Half Dome seeming to fall away.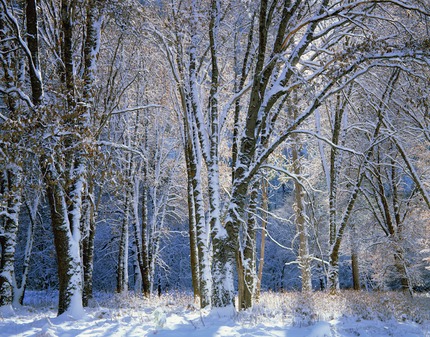 Black Oaks, 1999
The sun dropped behind these trees for a few minutes, highlighting the fresh, cold snow and skylit shadows on this February day.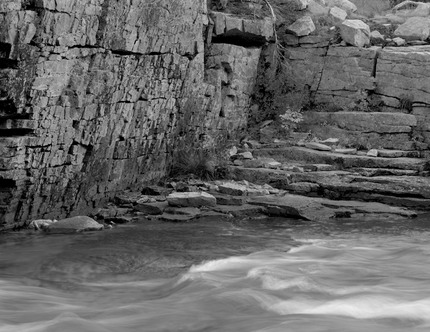 Paiute Creek, 2000
During a backpacking trip in King's Canyon, I found this creek with faulted and blocked granite sides and a gentle, cool flow.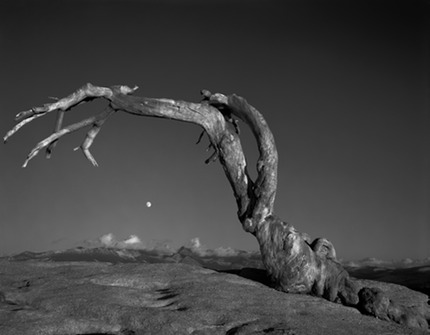 Jeffrey Pine and Moon, 1998 
This photograph was made a few minutes before Jefferey Pine, 1998, showing a different perspective of the tree that once sat atop Sentinel Dome.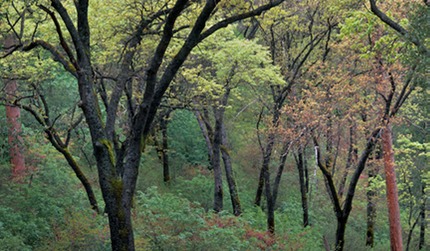 Merced River Canyon, 1999
As spring comes to the river canyon, greens of all hues come forth into a wet forest of moss and breezes.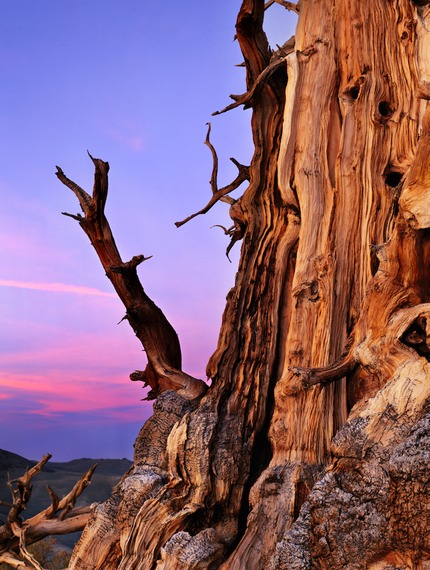 Bristlecone Pine, 2000
Photographed in the White Mountains of California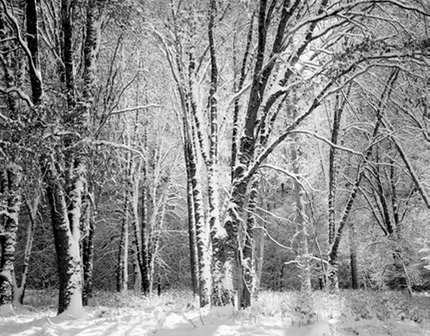 Black and White Oaks, 1999
A black and white interpretation of Black Oaks, 1999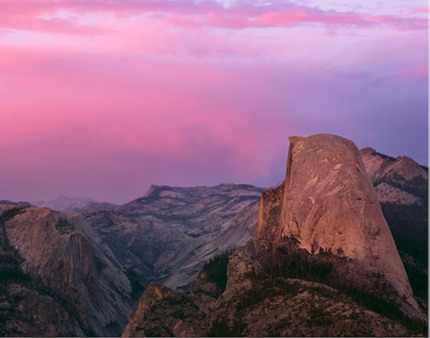 Half Dome from Washburn Point, 2004
A dying thunderstorm and a setting sun transformed a dark and dreary scene into this candy-colored world of granite.
Burned Sequoia Bark, Nelder Grove, 2004 
Reflections from the blue sky and colonies of fungus play on this carbon landscape.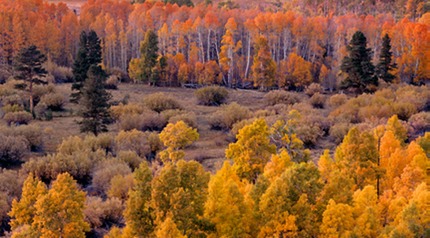 Conway Summit, 2004
Aspen groves are typically described as a single organism; these Aspen are on burning their way into winter near Mono Lake.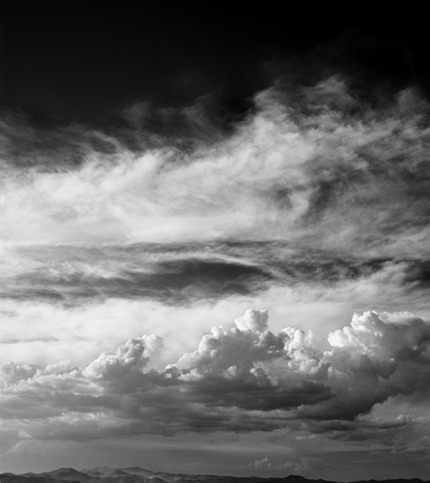 Clouds, Mono Lake, 2001
Sometimes the drama of a photograph isn't in the foreground at all; these massive clouds built over Mono Lake as I photographed from Panum Crater.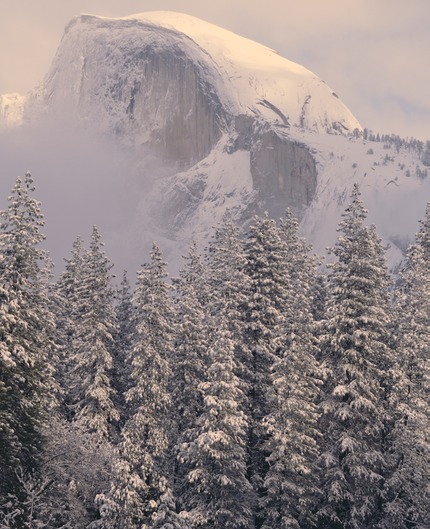 Half Dome, 2010
Fresh snow, deepening cold, and the last prayer of warmth from a setting sun.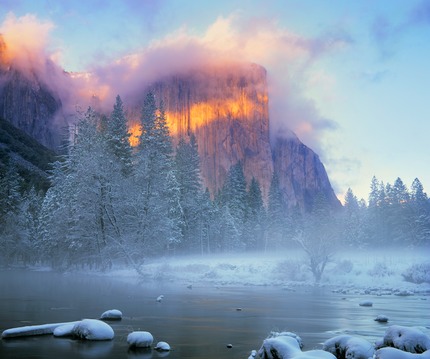 El Capitan Sunset, 1999
Made a few minutes after Black Oaks, 1999, this photograph shows the ephemeral mix of fire and ice that puts in rare but stunning appearances in the Sierra Nevada.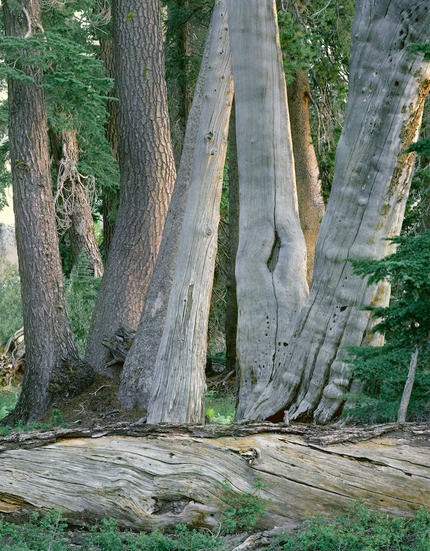 Eleven Trees, Emigrant Wilderness, 2002
These trees show many of the stages of life large conifers experience in the Sierra Nevada's Emigrant Wilderness.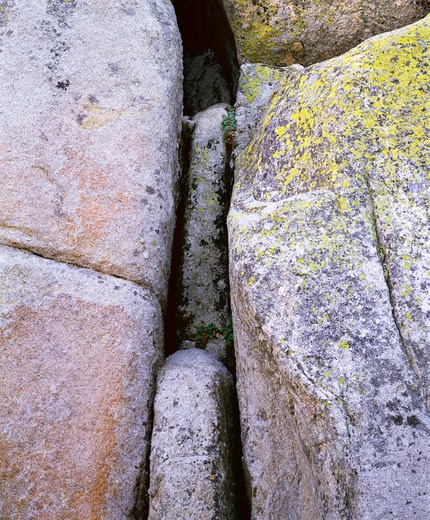 Granite, 2002
The lichen and minerals covering this rock give the normal grey granite of Emigrant Wilderness a subtle but engaging show of color.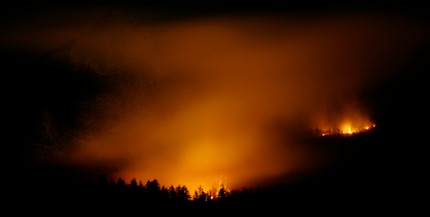 Meadow Fire, 2003
A man-made fire set to clear excessive forest fuels beneath Horse Ridge in Yosemite.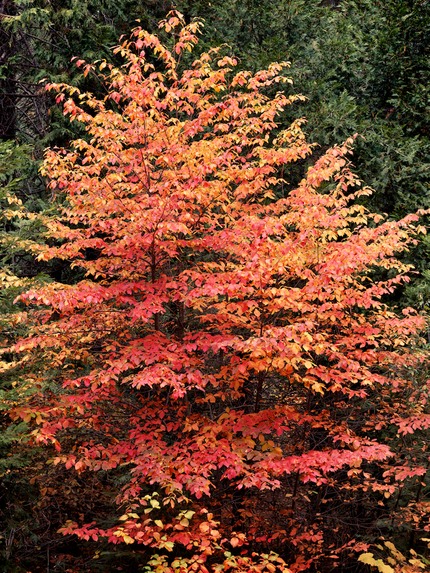 Dogwood in Autumn
This solemn but colorful Dogwood tree lies in the Sierra National Forest, near Oakhurst, California.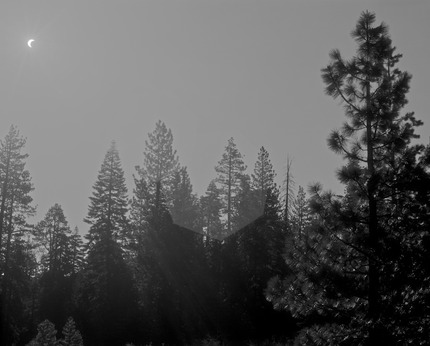 Partial Solar Eclipse, Sonora Pass, 2003
Made from an oblique angle, this photograph shows the stange, ethereal light of an eclipse and the occulded disc itself. The aperture reflection is an artifact of a too-short lens hood, but it gives the photograph a strong graphic tone.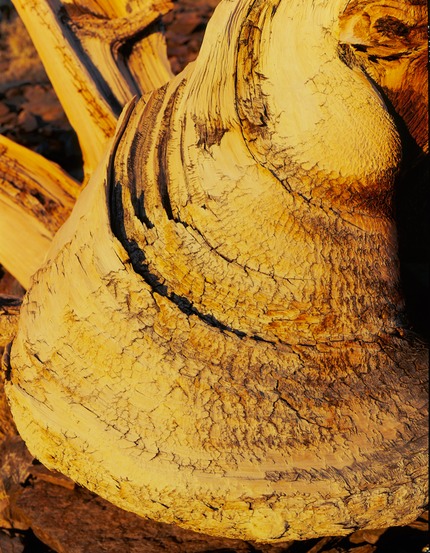 Dusk on Bristlecone Knurl, 2000
Photographed in the White Mountains of California